new Delhi: Today we are going to talk about the flood whose treatment our country has not been able to find even after 73 years of independence. For example, when there is a few hours of rain in Delhi and the Minto Bridge here sinks as usual, this is discussed in the national media throughout the day. But a large part of the country has been in floods for a month. Still, a section of the media is unaware of this. Zee News is constantly bringing attention to the country on this. That is why today we will talk about floods in Assam, Bihar and Northeast areas.
Especially in Assam, the situation is very bad. There are about 70 lakh people affected by the floods. This is a very large number in a state with a population of three and a half crores. People's houses have been destroyed, crops have been destroyed, cattle have been killed. Efforts are being made to save the people trapped in the flood in some way. More than one and a half lakh people have been evacuated from their homes and taken to relief camps.
Flooding in Assam
Disturbing pictures of floods are coming from Assam. Water is visible everywhere. There are flood situation in 33 districts of Assam except 5 districts and the remaining 28 districts. From this you can guess how Assam is going through a big crisis. Corona virus on one side and such flood on the other, is a big tragedy for the people of Assam.
In Assam, twice as many people have not died due to corona virus, due to floods, more than 100 people have lost their lives. The most worrying thing is that right now there is no improvement in this situation. Because in the coming days, there may be more heavy rains in Assam and some areas of Northeast.
Assam flood has neither spared humans, nor has it left animals. 90 percent of Kaziranga National Park, which is famous for protected wildlife, has been submerged in floods. More than 100 animals have died here and animals are now running away from this national park to save their lives. Animals like rhinoceros and elephants are now wandering in highways and settlements.
Floods occur every year
Although a large part of Assam is flooded every year, but the situation has worsened in this flood. Because there have been three floods in Assam within a month. When a state of the country is caught in such a big trouble, then the whole country should pray for Assam, that in this crisis there should be least loss and the situation should be better as soon as possible.
7 states of the country struggling with floods
There is a challenge of floods in seven states of the country at this time. The Prime Minister also spoke to the Chief Ministers of these seven states. Because between the corona virus infection, these states have got double trouble. Floods are a major problem in India every year.
You will be surprised to hear that 20 percent of the deaths due to floods occur in India only. Since independence, more than one lakh people have been killed in the floods in India and more than three and a half lakh crores have been damaged.
Although Assam used to have floods before, but it used to happen once in four-five years. Now for the last few years, Assam has been flooded every year. You can understand why this is happening by three things.
Assam is such a state of the country, which is completely situated on the river valley. 72 percent of the area of ​​Assam is in the Brahmaputra river valley, and as the water level of the Brahmaputra river rises, the area becomes prone to flooding.
The second thing is that the dams and embankments built on the Brahmaputra and its tributaries are increasing the flood problem rather than reducing it. Due to this the rivers do not flow naturally and then when the water level rises, the rivers get into their natural flow, which creates a flood situation.
The third thing is that encroachment on the banks of the rivers and uncontrolled construction also affects the drainage of water.
Assam receives more than average rainfall, so there is a problem of flooding, but our cities are such that only in a small amount of rain, flood conditions are created here. Surprisingly, no solution is taken out of it and every year we get to see similar pictures.
Minto Bridge in Delhi is one such place. A few days ago, a bus was drowned at this place, and one person died in it. But not just this year, every year, during the rainy season, this place gets submerged and some such bus gets stuck there.
This has been happening at this place of Delhi for years. Minto Bridge, 87 years old, has become a hallmark of rain and flooding in Delhi. Even if the government has been with anyone.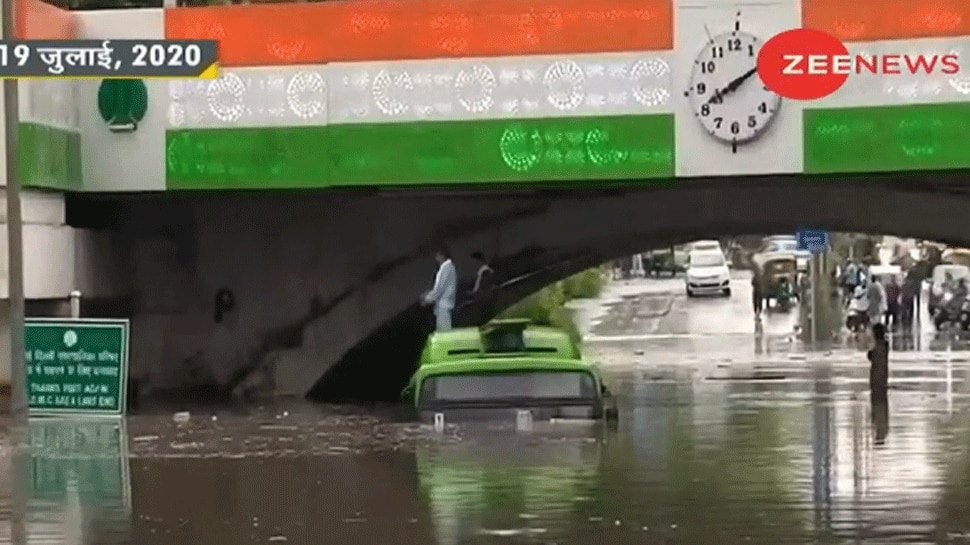 Terrible floods in china
Now we will talk about the terrible floods in China. Such floods have not been seen there in the last 30 years and this has left about 40 million people homeless in 27 states of China. Thousands of people's homes have been destroyed and so far about 90 thousand crore rupees have been lost. All this has happened because of the policies of Chinese President Xi Jinping and his Communist Party.
Because their focus is on encroaching in other countries and getting entangled with the world at this time. But he is not worried about the people of his own country. China had been raining heavily since the beginning of June. For the last one and a half months, 433 major and small rivers of China have been continuously increasing the water level, out of which the water level in 33 rivers has risen above the danger mark, but the communist government of China ignored this natural disaster in a way,
Today, the situation is that many cities of eastern, central, and south-western areas of China have been submerged in floods. Villages, towns and cities along the banks of China's largest river Yangtze (Yangtse) are flooded everywhere. This river flows through that Hubei province, where the corona virus was spread by China from the city of Wuhan. This province of China is most affected by floods.
One reason for this flood is also being told to the Three Gorges Dam of China. This dam is 368 km away from Wuhan and it is being said that the Chinese government opened the gates of this dam in a hurry, due to which a situation of flooding was created. As the world's largest dam, China has been calling the Three Gorges Dam its pride, but now China is saying that there is a danger of the dam breaking, so the water was released.
China's move floods in Wuhan?
However, many people also believe that China deliberately created a flood situation in cities like Wuhan, because a World Health Organization team was about to visit there, which is investigating whether the corona virus in Wuhan How did you come. Therefore, there are allegations that China deliberately resorted to floods to erase evidence and forced its own people to drown.